---
Welcome to the Fall Leadership Conference Online Registration System. Please be sure to use your chapter ID and password from the national affiliation site. To begin, click on the "Registration" button. When finished registering, please print an invoice for processing at your school.
INSTRUCTIONS: When registering you or another adult, in the "Add New Name" screen, please select "N/A" when asked for "Grade Level," and select "Not Competing" when asked for "Level." When registering your students, choose a "Grade Level" listed in the drop-down menu (11th, for example) and an affiliation category (junior, senior or occupational) when asked for "Level."
You may continue to add, modify or change registration; however, once registration closes on September 27, you will need to contact the state adviser to make any adjustments to your chapter registration.
Regular Registration Deadline: September 20
Student Registration: $60 (includes meal and T-shirt)
Adviser/Adult Registration: No registration fee -- $20 meal (optional)
T-shirts: Advisers may purchase a shirt for themselves or extra t-shirts for chaperones/guests--$10 each
Late Registration ($15 late fee): September 21-September 27
50% Refund: September 28-October 18 (Refund policy: A 50 percent refund will be granted only if a written request is received by the state adviser by October 18.) Following this date no refunds will be granted.
Final payment due: October 31
Registrations after September 27 could be declined if meeting capacities have been reached. Registrations may be accepted pending availability, but a t-shirt can not be guaranteed at that time. We are unable to accommodate on-site registrations.
Note: The State Executive Council and Regional Presidents are required to attend the Fall Leadership Conference according to state bylaws. Their registration fees are paid by the state association treasury. Their advisers need to make the lodging arrangements at Tan-Tar-A. Each state officer's chapter will receive a $40 housing credit after the conference.
LODGING REMINDER: Send the hotel registration and payment directly to Tan-Tar-A Conference Center. Housing information is posted on the Fall Leadership Conference page of the website (www.mofccla.org).
---
If you have questions about registration, please contact the State Office at (573) 522-6543 or mofccla@dese.mo.gov.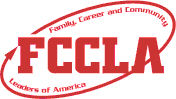 Copyright © 2000 , DLG Enterprises, Inc.