---
Welcome to the Nebraska FCCLA
Online Registration Center!
The Nebraska FCCLA State Association is looking forward to celebrating your accomplishments this year in Lincoln!
Please click the Registration button to begin registering. Please ensure that you have your complete delegate list including any STAR registrations, lunch requests, tour and service project participation, and shirt sizes (optional). Advisers are encouraged to use the form that was provided via email. Information about all of these events can be found on the Nebraska FCCLA website under "Meetings"
Important Registration Dates:
March 1: last date to register at regular conference rate
March 2: late fees ($10/person) are added to registration
March 1: last date to make registration changes, cancel registration, until 6:00 PM.
March 17: conference payment should be received by Grafton and Associates. Payments not received by this date will incur an additional late charge. Any payments not received by April 6 will not be allowed to pick up their registration packets at SLC.
All checks should be made payable to Nebraska FCCLA, but mailed to the Remit To address indicated on your invoice. NO CHECKS SHOULD BE MAILED TO THE STATE OFFICE! Only one check will need to be issued this year (including shirts, registration, and STAR Event registration)
---
If you have questions about registration, e-mail kristin.vest@nebraska.gov or terri.donahue@nebraska.gov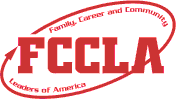 Copyright © 2000 , DLG Enterprises, Inc.