---
Fall Leadership Training
Location: Heartland Conference Retreat Center - 3201 County Road 325, Marengo, Ohio 43334
Event Date: October 10-11, 2022
October 10 - Opening Session 10:30 A.M.
October 11 - Closing Session ends 1:30 P.M.
Registration Fee: $200.00 per person (includes lodging, meals, training, materials, and supplies)

Registration closes at the end of business September 22, 2022
• Go to OhioFCCLA.org for the following:
Heartland Activities and Program Participant Agreement - each attendee must complete the form with parent signature if a minor - turn in at the Registration table upon arrival
Schedule At a Glance
Information about Hands-On activities
Leadership Seminars
Service-Learning Project
Packing List
Make a donation to: Ohio FCCLA Endowment
"Think of giving not as a duty but as a privilege." John D Rockefeller, Jr.
Contribute to Ohio FCCLA Endowment by checking the box for the amount you wish to donate (increments of $25). Growing the Endowment grows Ohio FCCLA!
When the registration is submitted, the registration becomes final and advisers will receive an email invoice.

Payments are due the day of the event!
Payments can be made by PayPal or check!
Make checks payable to: Ohio FCCLA, Fall Leadership Training, 25 S Front Street, MS 611, Columbus, Ohio 43215-4183
---
If you have questions about registration, e-mail cheryl.hamblin@education.ohio.gov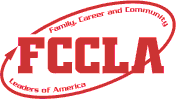 Copyright © 2000 , DLG Enterprises, Inc.