---
FCCLA Leadership Training
Location: Heartland Conference Retreat Center - 3201 County Road 325, Marengo Ohio 43334
Event Date: October 14-15, 2019 (October 14 Opening Session 10:30 AM. October 15 Closing Session ends1:30 PM)
Registration Fee: $135.00 (includes lodging, meals and training)
Ohio FCCLA Endowment
"Think of giving not as a duty but as a privilege." John D Rockefeller, Jr. Contribute to Ohio FCCLA Endowment by checking the box for the amount you wish to donate (increments of $25). All investment returns support Ohio FCCLA Leadership Training, Competitive Events, and Scholarships. This year consider donating to Ohio FCCLA Endowment when you register for FCCLA Leadership Training. Growing the Endowment grows Ohio FCCLA!
See the Ohiofccla.org for the following information:
FLT T-Shirt (optional) $12.50 each plus $6 dollars chapter charge (Spreadsheet) All orders must be submitted on the form by the end of business September 15
Agenda
Packing List
Heartland Activities and Program Participant Agreement (Each participant is required to turn in the signed form at registration on October 14, 2019).
REGISTER NOW! PAYMENT DUE THE DAY OF THE EVENT!
Registration opens August 15, 2019
Registration closes (no exceptions) end of business September 26, 2019
An invoice will be emailed upon registration completion.
All Invoices are final once submitted.
Payments can be either check or Pay Pal (credit card).
Make checks payable to: Ohio FCCLA, 25 South Front Street, MS 611, Columbus, Ohio 43215-4183.
---
If you have questions about registration, e-mail cheryl.hamblin@education.ohio.gov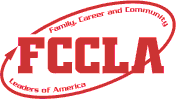 Copyright © 2000 , DLG Enterprises, Inc.