---
State Leadership Conference
April 25-26, 2019
Location: Ohio Expo Center - Celeste Building - 717 E 17th Ave, Columbus, OH 43211
Registration Closes: April 3, 2020
Culinary Career Development Events - April 18, 2020
Columbus State Mitchell Hall 250 Cleveland Ave, Columbus, OH 43215
Career Development Events - April 23, 2020
Bricker Building
Career Development Event Information
Career Development Event participants - No additional fee for competition
Culinary Team - $50 per team
Conference Registration
Members/Student Guest - $35
Adviser(s)/Adult Guests - $10
Parking Pass (Multi-entry) - $15
Administrators are Free
On-site registration will be available
School transportation vehicles do not require a pass
All invoices are final once submitted. Make checks payable to Ohio FCCLA,
25 South Front Street, MS 611, Columbus Ohio 43215-4183 or PayPal
____________________________________________________________________________________
Required Questions
National Leadership Conference
Ohio FCCLA Endowment
Compliance Agreements
Mandatory Dress Code - Students who choose not to comply with Ohio FCCLA Dress Code Policy will not have the opportunity to be recognized on stage.
Recognition Letters
Please designate one member(s) to represent your chapter on stage.
Check Ohio FCCLA website for postings of the following:
Go For The Red Award
National Programs Award
New Chapter Award
Outstanding Chapter Award
Service Learning Award
State Project Award
Unite in Red Award
Power of One
State Degree
National STAR Event Pre-Qualifiers
Ohio FCCLA Endowment Scholarship
---
If you have questions about registration, e-mail oh-nat-fccla@registermychapter.com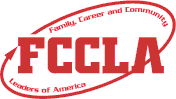 Copyright © 2000 , DLG Enterprises, Inc.