---
State Leadership Conference
April 27-27, 2023
(Print before leaving this page)
Location: Ohio Expo Center – NEW Location Kasich Hall - 717 East 17th Avenue, Columbus, OH 43211

Registration Opens: March 21, 2023
Registration Closes: April 13, 2023

Registration Rates:
Affiliated Chapter Member: $40
Non-Affiliated Chapter Member: $40
Adviser(s): $15
Adult Guests (Family Members): $35
Administrators: Free
Parking Pass (Multi-entry): $15 – School transportation vehicles do not require a pass.
Career Development Event Information
All State Qualifiers must register for State Leadership Conference
Baking and Pastry: $40 per entry
Culinary Arts: $40 per entry
All other Career Development Events no additional costs
On-site registration will be available
Ohio FCCLA Endowment: Contribute to Ohio FCCLA Endowment by checking the box for the amount you wish to donate (increments of $25).
Registration Required Questions: Participant question: Will you attend the 2023 National Leadership Conference in Denver, Colorado if you qualify?
Advisers are the Subject Matter Experts: Please check the Career Development Events you are willing to evaluate. For every three Career Development Events participants, provide additional evaluator information.
The Office of Career-Technical Education and State FCCLA Office have the expectation that advisers will help facilitate these competitions in the role of Subject Matter Experts at the regional, state, and national levels. Without chapter advisers serving as event volunteers, evaluation teams may lack critical context and subject matter information that could negatively impact final scoring. In addition, the expectation that all advisers will demonstrate professionalism while working with other advisers, volunteers, and state staff during the evaluation of members projects to provide a positive competitive event atmosphere.
All Subject Matter Experts serving in a volunteer role will receive documentation of the hours devoted to competitive events. This documentation may be used by volunteers to assist with professional development certification, as allowed by local policies.
All invoices are final once submitted.

General Conference Information
State Leadership Conference Dress Code Policy
Culinary Career Development Events: April 22, 2023, Columbus State Community College, Mitchell Hall, 250 Cleveland Ave, Columbus, OH 43215
Career Development Events: April 27, 2023 – Kasich Hall
Voting Delegates Policy: Number of delegates per chapter can be found on the Ohio FCCLA website under State Leadership Conference.
Stage Recognition: Chapter member(s) receiving onstage recognition must report to their assigned seating area 30 minutes prior to the start of the session. Members who choose not to comply with the Ohio FCCLA Dress Code Policy, forfeits the opportunity to be recognized onstage.
Individual and Chapter Awards: (Recipients must be present to receive the award)
Early Childhood Education Signing Day
FACTS National Program Award
FCCLA/Life Smarts Knowledge Bowl Championship Qualifier
FCCLA/Knowledge Matters Virtual Business Challenge
Go For the RED Award – Ohio
National Online STAR Events Qualifiers
National Programs Award
New Chapter Award
Ohio FCCLA Endowment Scholarship
Outstanding Chapter Award
Power of One
Say Yes to FCS
Service Hours Award
State Degree
State Outreach Award
State Project Award
Career Development Events:
Tuesday, April 25 by 10:00 P.M. the top three finalist in the four culinary Career Development Events will be announced on the Ohio FCCLA website.
Thursday, April 27 by 10:00 P.M. the top three finalist (each event, each level) will be announced on the Ohio FCCLA website.
Friday, April 28 the top three finalist (each event, each level) will have stage recognition and must be in official dress.
Culinary members may wear the Ohio FCCLA Culinary Uniform for Culinary CDE's.
Gold recipients will receive screen acknowledgement.
Advisers can pick up gold medals at the end of Friday's Recognition Closing Session at the registration desk.
A photographer will be on site to take pictures of all award winners.
Advisers will have access to all pictures following State Leadership Conference.
Career Development Events Recognition
All Career Development Event top finalists must arrive for the Closing General Session by 8:00 a.m. to check in and be seated in a designated reserved section. Those not checked in by this time will not be permitted onstage. Finalists will go onstage to hear their placement and receive an award. Participants not meeting dress code requirements will not be permitted onstage. Ohio FCCLA will recognize all national qualifiers on the Ohio FCCLA website within five business days after State Leadership Conference.
Gold medals and culinary rubrics must be picked up by advisers at the registration desk immediately following the recognition closing session. Ohio FCCLA will not mail any medals, awards, or rubrics. Rubrics will be available for downloading in the Adviser portal by 10:00 p.m. on May 2, 2023.
---
If you have questions about registration, e-mail oh-nat-fccla@registermychapter.com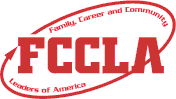 Copyright © 2000 , DLG Enterprises, Inc.