---
Welcome to the Oklahoma FCCLA State Leadership Conference Registration
The system will ask for Level for each of the students you are bringing. All students attending need to be affiliated, not just STAR participants.
SHORT CUT - To enter your students - instead of searching each students name - go to add student > hit search (all students you have affiliated will populate) > Select participant type, & Competition Level (enter this even if they did not participate, system glitch), > Continue at bottom of page.
Location: Oklahoma Convention Center
416 South Robinson, Oklahoma City
Packet pickup: 8am
Conference - 9am - 3:00pm
Registration Fee:
Earlybird special
$20/person

Earlybird special rate deadline is January 31, 2023
Registration
$30/person
February 1 - March 9, 2023
Registration Deadline is 11:59pm March 9, 2023
T-Shirts are available for order but are an extra cost outside of the registration fee.
PO Information:
Oklahoma FCCLA
Attn: Ashli Hall
1500 W. 7th St.
Stillwater, OK 74074
PHOTOGRAPHY RELEASE
FCCLA photographers and videographer will be taking photos and video throughout the conference for use in any manner FCCLA deems appropriate including, but not limited to FCCLA publications, use on the FCCLA website, and in connection with Competitive Events.. Name will not appear on photos or in videos. By attending this activity, you grant FCCLA the right, without approval, to photograph, record, use, and edit your photograph, video, image, likeness , appearance, performance, and any other indicia of identity, in any format whatsoever, and to publish, disseminate, exhibit, publicly display, give, sell, and /or transfer the same in any and all forms of media or distribution now known or hereafter discovered or developed (including, but not limited to, print media, internet, web casting, video streaming, television, or radio), for the use of FCCLA, its affiliates, or individual, organization, business, publication, network or other third party, in perpetuity, without payment or any consideration.
Click the Registration button on the left to begin.
---
If you have questions about registration, e-mail brittani.phillips@careertech.ok.gov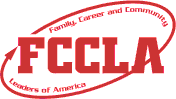 Copyright © 2000 , DLG Enterprises, Inc.