---
Welcome to the Utah FCCLA Region 2 Conference Registration System. Region 2 conference will take place virtually from February 3rd-10th, 2021 concluding with a live awards session on Friday, February 12th.
January 22nd: Registration closes at 11:59 pm; $10.00 per student
Late registration will go into affect on January 23 at 12:00 am.
January 27th: Late Registration closes at 11:59 pm, $15.00 per student. Registration will no longer be accepted after this date.
January 29th-Feb 2nd: Advisers upload student projects and presentations
February 3rd-7th: Evaluation of projects
February 8th-10th: Room Consultants finalize scores
February 12th @ 10:00am : Awards session via zoom
More detailed information on Region 2 Conference can be found on the Utah FCCLA website under the Region 2 Conference Tab.
To add students or teachers to registration hit the "add student/adviser" button. The next screen will be to add first/last name. Instead of adding individual names hit the "search" button and all students that are affiliated will come up. You can then select which students to register for region conference.
---
If you have questions about registration, e-mail Lindsay Maxfield at lindsay.maxfield@jordandistrict.org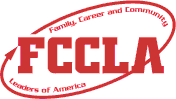 Copyright © 2000 , DLG Enterprises, Inc.