---
Welcome to the Utah FCCLA Region 4 Conference Registration System. Region 4 virtually February 3rd-12th, 2021.
Early registration will close on January 22th at 11:59pm. Late registration will go into affect on January 23th at 12:00am. Registration will close on January 27 at 11:59pm. Registration will no longer be accepted after that date.
More detailed information for Region 4 Conference click here.
To add students or teachers to registration hit the "add student/adviser" button. The next screen will be to add first/last name. Instead of adding individual names hit the "search" button and all students that are affiliated will come up. You can then select which students to register for region conference.
---
If you have questions about registration, e-mail Jessica Knotts at jessica.knotts@nebo.edu.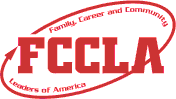 Copyright © 2000 , DLG Enterprises, Inc.