---
Welcome to the Virginia FCCLA State Conference and STAR Events Registration Page!
This conference registration and STAR Events entry system is linked to national's online affiliation site so you will need to make sure that you have completed that process before you can register for conference or STAR Events competition.
BEFORE STARTING THE ONLINE REGISTRATION PROCESS, PLEASE DOWNLOAD THE INSTRUCTIONS PROVIDED FOR YOU ON THE VIRGINIA FCCLA WEBSITE - DOING THIS WILL MAKE THE STEPS MORE CLEAR AND WILL SAVE YOU A LOT OF TIME!
STEP ONE: Ensure that your chapter's information and names of student members are entered in national's online affiliation site - deadline is February 15. Ensure that all affiliation information is correct, including spelling of names and student's grade in school. If needed, make corrections to your online affiliation before handling conference and STAR Events registration.
---
Before you begin, make sure you know your password for your national affiliation - that same login information is used to access this site. If you can't remember, enter your email address on the next screen after you click on the "Registration" button and your password will be emailed to you.
Registration on this site is to be done BY CHAPTER. If you have more than one chapter in your school, then you must register each chapter separately.
Housing information for the state conference is posted on the Virginia FCCLA website under the "State Conference" button at the top of the homepage. Additional forms for conference participation are also found in that section of the website.
Refer to the state website for information on conference registration rates and STAR Events competition entry fees.
Please be advised that conference registration and STAR Events entry fees will be charged at the registration rates in effect at the time the registration is submitted. For example, if you begin a registration prior to the February 15 rate period but submit the registration after that, you will be charged the higher rate per person.
IMPORTANT NOTE REGARDING STAR EVENT TEAMS: The category - or level - that a member enters is based on grade (Level 1 - grades 6-8; Level 2 - grades 9-10; Level 3 - grades 11-12). If you are combining members from the different levels onto one STAR Events team in a live event, you MUST enter all of those team members in the level of the member in the highest grade (i.e. - an 8th grader and an 11th grader must enter Level 3) . We use the term "mixed" team for this.
Special appreciation is extended to our many sponsors who provide for the delivery of our STAR Events competitions. Their generous assistance in event planning and management, sponsorship of events, and scholarships in designated events makes it possible to offer a wide range of competitions correlated to Family & Consumer Sciences curriculum.
Please click the Registration button to begin registering your conference and STAR Events participants (blue button in the upper left corner).
---
For technical questions about this online site for state conference registration and for questions related to STAR Events entries, email debbiewillFCCLA@comcast.net
For questions related to state conference programming, contact crhoton@mecc.edu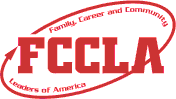 Copyright © 2000 , DLG Enterprises, Inc.