---
Welcome to the Washington FCCLA
Online Registration Center!
Registration has reopened for the 2020 WA FCCLA Virtual State Leadership Conference ONLY for additions! If you'd like to cancel any registrations, please do NOT delete them from the system and instead email your cancellations to executivedirector@wa-fccla.org.
Please click the Registration button to begin registering.
---
If you have questions about registration, e-mail ExecutiveDirector@wa-fccla.org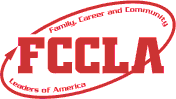 Copyright © 2000 , DLG Enterprises, Inc.