TSA State Conference March 3rd-5th 2022

[Home]
---









---

ID TSA Information

TSA Themes and Problems

TSA Updates and Clarifications



Please enter your username and password

Can't remember your password? Enter your email address below, and if we find your record, your password will be emailed to you.
---
If you have questions about registration, contact the state office at (208) 429-5529 or via e-mail at andrew.armstrong@cte.idaho.gov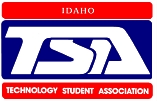 Copyright © 2000 , DLG Enterprises, Inc.